Hers and Macy's Offers a SuperHero Mom $500 to Shop
|
Recently, Ben Affleck described his estranged wife, Jennifer Garner, as a "superhero mom." He expounded, saying, "She is an amazing mother, and I'm really lucky to have her as a partner to co-parent these kids with. We try our best, we put them first and that's what we do."
Like our fingerprints, no two mothers are exactly the same. So, we want to know just how special your mother has been and what mark she's left on your life, and for doing this, you could win a $500 shopping spree for your Super + Hero = MOM .
He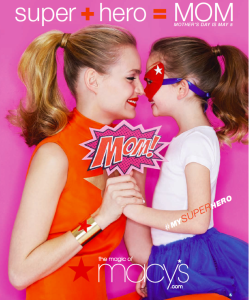 rs magazine has partnered with Macy's to make Mother's Day even more special by celebrating Moms, our real-life superheroes! Enter our sweepstakes and you could win a $500 card to shop at Macy's in honor of Mother's Day.
How to Enter:
1) Follow/Like Hers magazine on social media*
2) Post a picture of you and your mom
3) Tell us what makes your mom "super" and/or what makes her your "hero" in 100 words or less
4) Add hashtags #MySuperHero #HersMagazine
"Mirror Mirror on the Wall, You Are Your Mother After All." How many of us have looked in the mirror at one point and realized that we look more like our mothers than we thought?  As an alternative to describing what makes your Mom a SuperHero, you can share one of your favorite facial features that you got from your SuperHero Mom and why you like or are proud of this feature.
Deadline for entering the contest is Saturday, April 30th at midnight.
*Facebook, Twitter, Instagram, Pinterest, LinkedIn
How to Win:
The winner is chosen on a 12-point scale, which includes:
Picture of you and mom (2 points),
Description of your SuperHero Mom (1-5 points),
Social media follows/like (1 point per platform); and
Hashtags (2 points)
Winner (12 points):
$500 Macy's gift card + Subscription
Second Place (11 points):
Makeup from Macy's + Hers t-shirt
Third Place (10 points):
Hers t-shirt + Subscription
If there is a tie, the Hers editorial team will make the final decision. The winner(s) will be announced online and contacted directly. Prizes will be mailed or picked up from the Allwrite Communications office in Atlanta, GA.