Entertainment
Katherine MacGregor Passes Away at 93
By |
The cast and fans of the popular 1970's to early 1980s drama series, "Little House on the Prairie," said their good-byes to Katherine "Scottie" MacGregor who passed away on Tuesday in Woodland Hills, California. She was 93.
MacGregor was best known for her role on the show as the mean-spirited, yet gossipy Harriet Olesen for a total of 148 episodes of the series. Olesen, along with her daughter Nellie (Alison Arngrim) acted as the bitter foils to the virtuous Ingalls, which includes Pa (Michael Landon) and Laura (Melissa Gilbert.)
Born on January 12, 1925, as Dorlee Deane MacGregor in Glendale, California, the veteran actress came from humble beginnings. She grew up in Fort Collins, Colorado, with her mother, Beatrice, and stepfather, Francis "Frank" Garner, who worked as a railroad man. Despite the fact that her family had very little money, MacGregor began acting an early age.
She graduated from Northwestern University with a bachelor of science degree in 1947 and then moved to New York to pursue a career in acting. It is also at this time that she changed her name to "Scottie." For the summer season of 1949, she was a member of the Gertna Playhouse company, appearing in productions like "Philadelphia Story" and "The Whole Town's Talking." Come 1954, MacGregor started as one of the "Dream Girls" for the national tour of "The Seven Year Itch." By 1956, she was promoted to the role of wife Helen.
Under her new name "Scottie MacGregor," she received Broadway credits for her performances in "Purple Dust," "'Toinette," "Telemachus Clay" and "The Old Glory." However, her most acclaimed performances were at regional theaters, such as the Pittsburgh Playhouse in 1966 and 1968 where she starred in "Who's Afraid of Virginia Woolf," "The Typists and The Tiger," "The Subject Was Roses" and "A Delicate Balance."
At the peak of her stage career, MacGregor made her transition to the Hollywood scene. She got a role in the 1954 crime drama "On the Waterfront" and appeared in television shows such as "Ironside," "Emergency!" and "Mannix." Despite getting work, she found the steady stream of roles as teachers, nurses and secretaries to be disheartening.
"It was a rude awakening coming to Hollywood," she told the Santa Cruz Sentinel in 1981, according to the "Little House on the Prairie" official website. "I was used to doing juicy parts on the stage … They didn't know what to do with me."
Then came along the role that would make her a legend.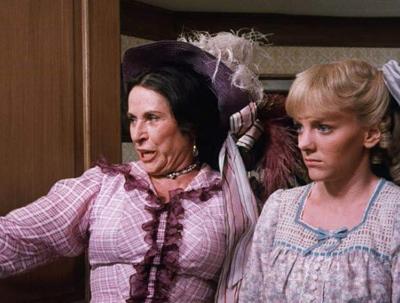 "I was getting ready to go back to New York and my agent called and said, 'Could you go see somebody this afternoon?'" the official website reports. "And I said, 'Who did you say I'm supposed to meet?' She said, 'Michael Landon.' And I said, 'Well, who's he?'" She met with Landon, won the role of Harriet Olesen and the rest is history.
Harriet was called many things, including quarrelsome, shrewish and bigoted, among other things. MacGregor, however, saw her as someone "who had her own feelings about things." MacGregor initially disliked the role of Harriet as originally portrayed. "Anyone that mean has to be a fool," she said, "So I began mixing farce into it. I think the audience counts on seeing Mrs. Oleson fall on her fanny."
She would go on to portray Harriet for nine seasons. When "Little House" was canceled in 1983, MacGregor decided she was ready to retire. When the post-series TV movie "The Last Farewell" was being filmed in 1984, the actress was said to be on a pilgrimage in India, practicing her Hindu faith. In addition, she occasionally wrote, directed and produced plays for "The Wee Hollywood Vedanta Players," a children's theater group.
MacGregor will be deeply missed, especially by her castmates. Melissa Gilbert, who starred as Laura Ingalls Wilder on the show, took to Twitter to pay tribute:
I just got word that Katherine MacGregor passed away yesterday.

This woman taught me so much…
about acting…
vintage jewelry…
life.
She was outspoken and hilariously funny. A… https://t.co/I4F9XA1Fa4

— Melissa Gilbert (@MEGBusfield) November 14, 2018
Though gone, the woman known as Scottie MacGregor who made us laugh countless times will not be forgotten. Her legacy lives on through her contributions to television, film and theater and through the lives she touched in life.