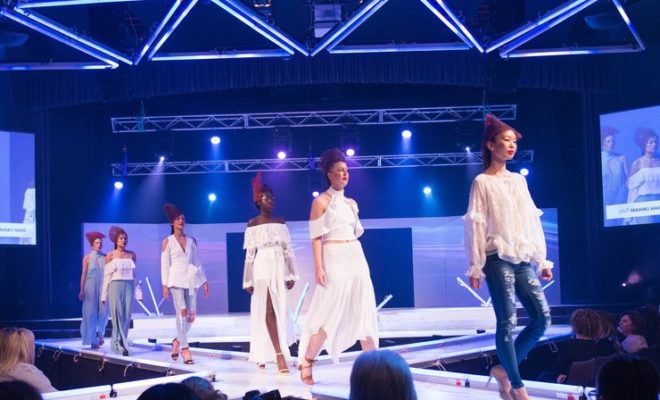 Fashion
bU Fashion Show Finds a New Home in the U.S.
By |
bU Fashion Show has officially come to the United States with a sold out show on Friday, June 8th at the Infinite Energy Center in Atlanta, Ga. Models of all ages and sizes literally crisscrossed on a custom runway wearing outfits from designers and even department stores.
From the moment you entered the Infinite arena, there was something noticeably different about this fashion show. There were people babysitting children in one area, greeters making sure guests felt welcome, gift bags with snacks and samples, Portuguese and Spanish interpreters, dancers opening the show, live singers and a violinist, and even acrobatic male models. Australian audiences had become accustomed to this for 16 years, but now bU Fashion Show has made its way to metro Atlanta.
Models wore everything from casual wear to evening gowns. They ranged from boutique chic to stylish everyday apparel. The varied rompers and jumpsuits for women seemed most appealing, some featuring sexy slits and striking colors. The men's fashion by House of Adnama commanded the audience's attention, as the models strutted, playfully bantered and even flipped while wearing tailored-looking shirt and jeans ensembles. Fashions were also provided by American Threads, Dress Up, JC Penney, Cotton On, Christina Yother, Youthreads, DLK, Fab'rik, Alter'd State, and Dae'la Shoes.
The night was much more than about fashion, however. With a distinct Australian accent and wry humor, bU Fashion founder Jane Evans appealed to the more than 1,500 attendees to support Convoy of Hope by taking up donations during the show, which ultimately totaled slightly more than $1,800. Unlike anything most fashion enthusiasts had ever experienced during a show, Evans made an appeal for salvation at the end of the night. She even led the entire audience in prayer. Her aim was clear: she wanted to entertain in an inclusive manner, provide support for her cause, and save souls.
Take a look at some highlights from the show: