Favorite
A Day Without Women Set for March
First, millions marched together, but now they strike.
The organizers of the Women's March on Washington have set International Women's Day, March 8th, as the date for the next phase of its women's rights mobilization: a general strike called "A Day Without a Woman." The organizers first mentioned the strike earlier this month, but no date had been set.
For this year's International Women's Day, the theme is #BeBoldForChange, asking, "Will you be bold for change?" The message complements that of the Women's March, which has asked people to "unite again," as they had on January 21st. Spurred by the success of the march, when according to the group, more than 5 million people participated in the march worldwide. Women are now being asked to collectively resist in support of their rights.
The organizers announced the news on social media, and the Instagram post reads in part:
"In the spirit of women and their allies coming together for love and liberation, we offer 'A Day Without A Woman'. We saw what happened when millions of us stood together in January, and now we know that our army of love greatly outnumbers the army of fear, greed and hatred. On March 8th, International Women's Day, let's unite again in our communities for A Day Without A Woman."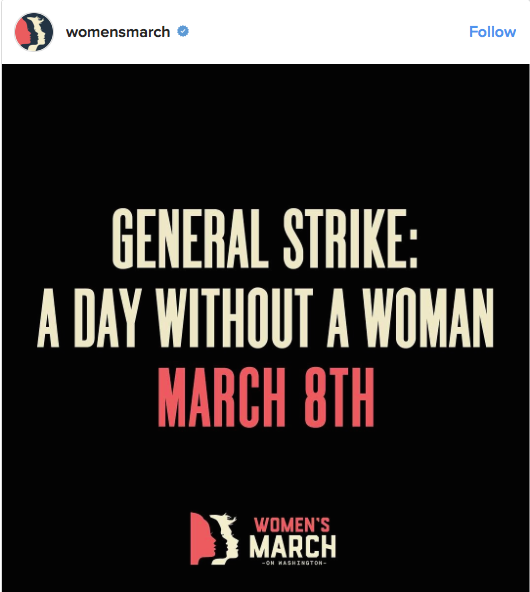 The idea for a women's strike is not new. Forty years ago, women in Iceland went on strike, calling it a "Women's Day Off." Thousands marched in the street for equality, refusing to work, cook and care for their children for a day. It changed the way women were seen in the country.
The "Day Without a Woman" strike follows the "Day Without Immigrants" strike Thursday in D.C. Over the coming weeks, organizers said they would be providing more information about how the strike would work and what's expected on that day.
 
 -Annette Johnson, editor
 Twitter: @AnnetteWriter